Boring is a series of photographs I did in 2005. The series debuted at Art Party at secondfloor along with work by painter Danny Buchanan, filmmaker Bruce LaBruce, and artist Safiya Randera. What unified these artists was the beautification of the human body and the aesthetic depiction of what we covet emotionally and physically. The series was also exhibited in in January 2006 at Kasini House-at-large in Montreal.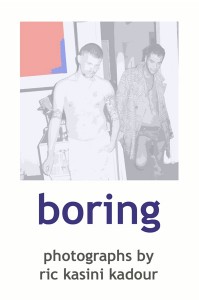 Limited Edition Folio
The thirty-four page folio contains twenty-five images plus personal and artist statements, and title pages. Each image is 4 " x 4 " on 5 " x 7" paper. The folio is presented loose in a navy-colored box. The edition is limited to one hundred and each folio is numbered, signed, and contains a certificate
$50.00 plus shipping and handling
Prints
Selected images are available as 12″x12″ prints on 16″x20″ paper. Editions are limited to three.
Unframed Prints
$300 plus shipping & handling
Framed Prints
$450 plus shipping & handling